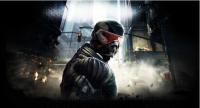 About This Club
Für alle Crysis 2 Fans. Zum Crysis Unterforum -> http://www.play3.de/forum/crysis/ Zum Crysis 2 Sammelthread -> http://www.play3.de/forum/crysis/35801-crysis-2-a.html Singleplayer Thread -> http://www.play3.de/forum/crysis/58868-crysis-2-singleplayer-thread.html Multiplayer Thread -> http://www.play3.de/forum/crysis/58869-crysis-2-multiplayer-thread.html
---
What's new in this club

Stimmt tatsächlich, es ist viel schärfer und auch die Pop-Ups scheinen weniger geworden zu sein, aber da kann ich mich auch irren.

Skalieren ist eigentlich immer schlecht, denke aber auch nicht immer daran. Das PS3 Menü sieht halt in 720p nicht mehr so schön aus. Da aber die meisten Games auf der PS3 in 720p laufen, einige sogar darunter, braucht man die 1080 eigentlich gar nicht zu aktivieren.

Ach deswegen konnte ich die Leute nie verstehen, die gesagt haben es würde nicht gut aussehen. Da mein TV eh nur 720p kann, hab ich schon seit Anfang an alles andere bis auf 720p ausgestellt.

Im Playstation Menü die Grafik Settings auf 720p stellen und die Häckchen bei 1080p und 1080i deaktiviere. Die Grafik wird dadurch wesentlich schärfer!

Sieht sher hammer aus. Heut ist meine PC Version angekommen.Nano Edition wird aber auch noch gekauft und das Spiel was ich dann über hab bekommt ein Freund zum GB

Unboxing-Video der Nano-Edition:

Hier könnt ihr mal alle Reviews und Previews reinposten die ihr zu Crysis 2 gefunden habt: Play3 Preview aus Köln : MP: http://www.play3.de/2011/03/11/special-wir-berichten-von-der-crysis-2-testsession-multiplayer/ Tag 1 : http://www.play3.de/2011/03/08/special-wir-berichten-live-von-der-crysis-2-testsession/ Tag 2: http://www.play3.de/2011/03/09/special-special-wir-berichten-von-der-%E2%80%9Ccrysis-2%E2%80%B3-testsession-tag-2/ OCM Bewertet das Spiel mit 9/10 http://www.oxm.co.uk/26140/news/first-crysis-2-review-9/10-in-the-new-oxm/ OPM gibt 8/10 http://www.computerandvideogames.com/293334/news/crysis-2-review-8/10-in-official-playstation-mag/

Parking Deck Flythrough http://www.youtube.com/watch?v=DBshUa4Co9Y&feature=youtube_gdata_player Crysis 2 Map Focus Impact http://www.youtube.com/watch?v=ItaJkZ91l3A&feature=youtube_gdata_player

Und der wichtigste Trailer ist noch gar nicht hier. Der mit dem PS3-Gameplay. The Experience Part 2: Semper Fi or die: Und mal der älteste bisher gezeigte: The Wall:

Demo-Maps in Rundflugvideos: Crysis 2 - Map Focus - Pier 17 Crysis 2 - Map Focus - Skyline Crysis 2 Map Focus - City Hall Flythrough http://www.youtube.com/watch?v=r84VP4VzLI8&feature=player_embedded

Neues Video von Gamespot mit fast 20 Minuten Gameplay:

Die Nano - Edition ist echt cool, leider ist sie nur so teuer. (Nach der TW2 Royal Edition werde ich nie wieder mehr als 75€ ausgeben)

Hier findet Ihr alle aktuelle Trailer und Gameplay Videos zu Crysis 2! Ich fange mal mit diesen beiden an: Crysis 2: Story Trailer Crysis 2 Experience Part I: Road Rage HD http://www.gametrailers.com/video/crysis-2-crysis-2/710534

In den Arkaden ist einer, dann kenn ich noch den auf der Hohe Straße und im Weidener Einkaufscenter. Aber da ich online bestellt habe, wird es eh nach Hause geschickt wegen Post-Ident.

Oder warten bis sie verfügbar ist.Vllt. ist sie ja bald wieder drin. Und wenn nit dann halt Gamestop. Wo ist in Köln einer? In den Arkaden?

Tja. Aber jetzt nicht mehr. Bleibt wohl dann nur Gamestop oder der EA-Store.

Nene hab extra geguckt , 129,99 genau wie bei XBOX und PS3.

Vielleicht hast du vergessen gehabt auf PC umzustellen.

LoL , ich bin mir 100 pro sicher das heute mittag die Edition für 129 € drin war.

Wo siehst du bei Amazon die Nano-Edition für 129€? Bei mir steht da nur das man sich per E-Mail benachrichtigen lassen kann, sobald sie erhältlich ist.

Also bei Amazon.de kostet die Nano Edition 129€ für PC , Ps3 und XBOX.

Wer jetzt? Amazon bietet die PC Nano Edition noch gar nicht an. Bei Gamestop schon. Vielleicht ist bei der Edition halt ein Einheitspreis.

Hm dann werde ich wohl Anfang März bestellen. Vorher gehts leider nit :-( Aber warum bieten sie die PC und Ps3 Fassung zum gleichen Preis an? PC ist doch immer billiger ... .. schon komisch.